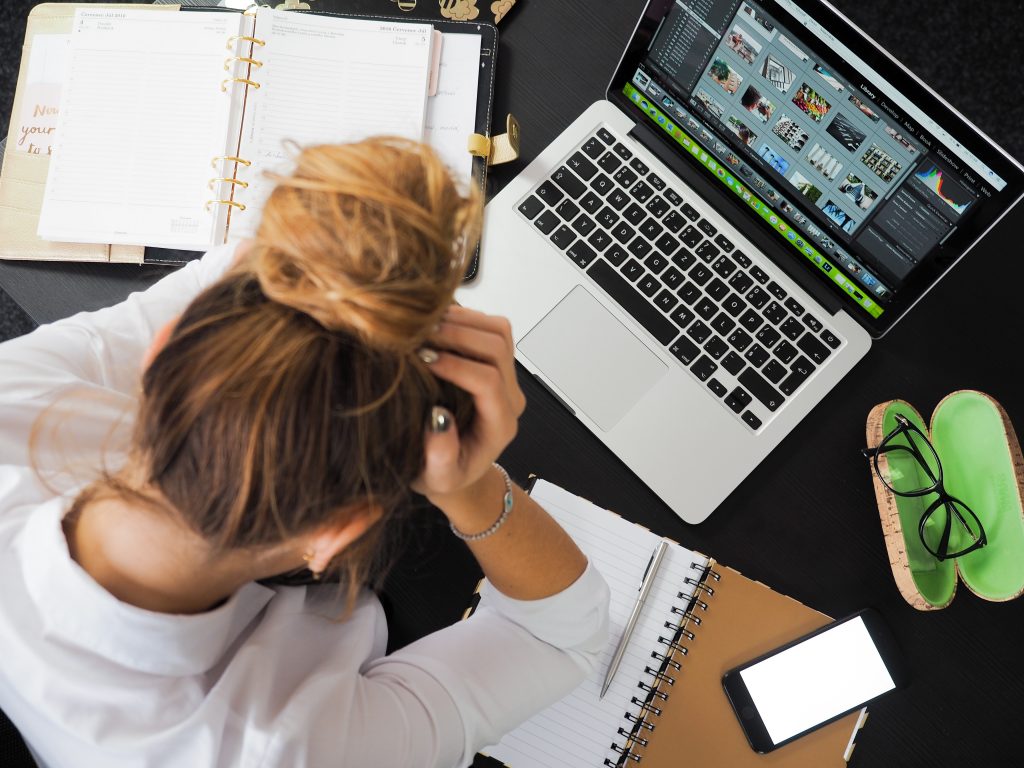 Guest Post by Kimberly Gypsy LoSavio. Kim is the sassy spark behind Blogging with Gypsy – https://bloggingwithgypsy.com, her blog about blogging – smattering of mentoring, teaching, guidance, sharing, and whatever shenanigans she can think of. She helps her clients create a fabulous space on the interwebz to share their awesomeness with the World! Ms. LoSavio is a full-time momma to her autistic 7-year-old son she lovingly calls Master Beastie. She is seriously addicted to coffee. When she's not creating websites or helping clients with their blogs, and Master Beastie is having a quiet moment of his own, you may find her crafting, writing, or even reading a trashy novel she found on Kindle unlimited.
Click for your Free Blogging Toolkit
Keeping up with your blog can have you feeling frustrated and overwhelmed if you don't have some sort of plan in place.
And keeping up with your tribe and mastermind groups just adds to the madness, right?
I have found myself not posting to my blog regularly, even though I have a list of topics to write about.
Worse, my workspace gets cluttered with pieces of paper taped to my laptop or wall, post-it notes scattered all over and several different notebooks in different places – with no order or organization going on whatsoever – which also leads to forgetting a LOT of things I want to share.
I know I am NOT the only one this happens to!
I'm not always good about commenting and sharing other bloggers – especially those in my tribe and mastermind groups. And my friends.
It's horrible! No wonder I'm always so frustrated and overwhelmed.
And did you know this kind of disorganized chaos affects your readership, your list (people start unsubscribing) and can start diminishing your traffic as well? Yeah … that kinda sucks!
Especially when the whole idea of having a website and blog is to build your empire, keep those subscribers and grow that traffic.
So, what can you do, you might wonder? Or you might wonder what I did.
Yeah, I'm still wondering and I'm still doing but I'm going to share with you my not so secret secret! Or rather 5 things that will definitely help you out!
5 Simple Ways to Rid Your Blog of Chaos & Overwhelm So You Can Grow Your Reach and Community
1: Get Yourself Organized
Seriously! GETTING YOURSELF ORGANIZED is the first thing you NEED to do to feel less frustrated and overwhelmed. Even if you are one of those who thrive on "disorganized" chaos (like me), you still need to have some semblance of order.
I have a large white board that I use for a monthly wall calendar to write on next to my desk. I'm learning to make better use of my post-it note addiction. And I now use a combination of my Desire Map Daily Planner and 2 Happy Planners for keeping my soulfull biz & life in a fairly somewhat not-so chaotic mess.
Seriously! I'm lost without my planners!
I also find that I NEED to declutter my desk at least once a month. And I'm a firm believe in smudging! Yes, it's woo-woo. But it makes me happy!
Figure out whatever works best for YOU! And what helps you stay on top of things!
2: Penning in Time to Plan your Month Ahead
This is so important!!! And what you can do with your PLANNERS!!!!
PENNING in 2 – 3 hours to plan out your month will save you a large chunk of that chaos. I say "penning" because if you "pencil" it in, that just makes it easier to erase. So, use a pen! Better yet, use a permanent marker.
I've found penning in planning sessions the last weekend of the month helps me keep on track, but you can choose whenever the best time is for you.
What are you waiting for?
Go on!
Grab that permanent marker and do it right now! … I'll wait.
Okay! Ready for #3? Good!
3: Write Your Blog Posts in Clusters and Schedule Them Out
Pick a day during the week to write your post(s) at once for the next week.
You can save them all as drafts and then edit them on the days you want to want to publish them. Or you can choose one day to write and the second day to edit and schedule to publish. This is easier for those that only post 1 -3 times a week on their blog. If you post daily, you can always pick 2 different days.
It's even easier if you're an every other week or once a month blogger. Just figure out your perfect schedule and plan ahead the drafting, the editing and then schedule it to publish on the day you want it to go live. I love WordPress!
4: Pick one day a week to Comment on other Blogs
Commenting on others' blogs helps build community and ultimately brings traffic back to your blog if you are listing your blog URL with your comment. But it can get so overwhelming as you add more people or mastermind groups to your tribe. I bookmark all the blogs in my tribe into one folder in my browser bar, so I have them all in one place; then I PEN in (YES with a permanent marker) the times that I am going to dedicate to just commenting on blogs and sharing them in my planner.
If you do this once a week, you are leaving 4 comments a month on each person's blog! I call that a win in my book!
5: Being consistent!
Being consistent is really the key here.
If you stick to your plan, I promise that you will feel the frustrated and overwhelmed energies less and less.
Oh sure, the Procrastination Monster will reel its nasty head sometimes, but so long as you face it head on, take a deep breath and move forward – this is called taking action, and continue to be consistent, it will get easier and easier.
It will start to be a habit … like getting out of bed and making coffee every morning. Or breathing! LOLz
These are just a few things that you can do to keep from feeling frustrated and overwhelmed and from stopping cold in your tracks.
These steps also help guide and move you forward, to build your business and grow your community.
And don't worry if you fall off the wagon! Just get right back up and start where you are!
Click for your Free Blogging Toolkit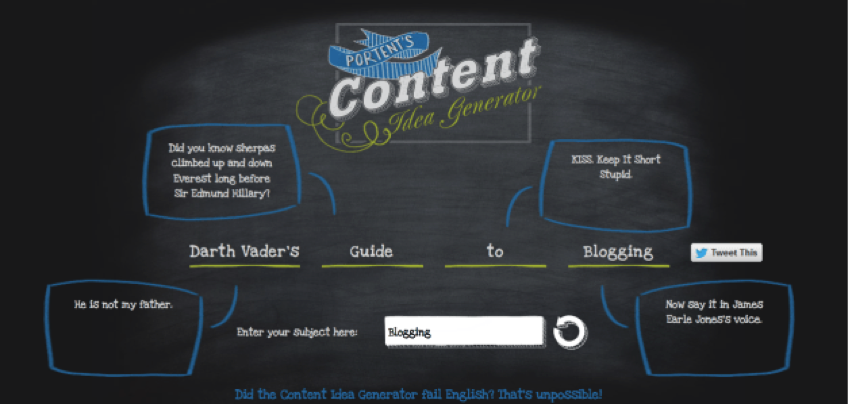 Want more traffic to your blog posts? Write better headlines… It's time to get creative and come up with fresh twists on your ideas that stand out and get noticed amidst all the "noise" online.
You could sit around for hours, painfully attempting to brainstorm and wrack your brain for ideas… or you could get smart, save time and hack your way to attention-grabbing headlines.
Remember: A hack is a clever and ingenious way to solve a problem or overcome a challenge.
Usually a "hack" allows you to do something quicker, and with less energy or brain power, while arriving at a desired (and even better) end result.
So, with the tools below you can easily "hack" your way to more creatively fresh headlines and save your brain!
BlogAbout Title Idea Generator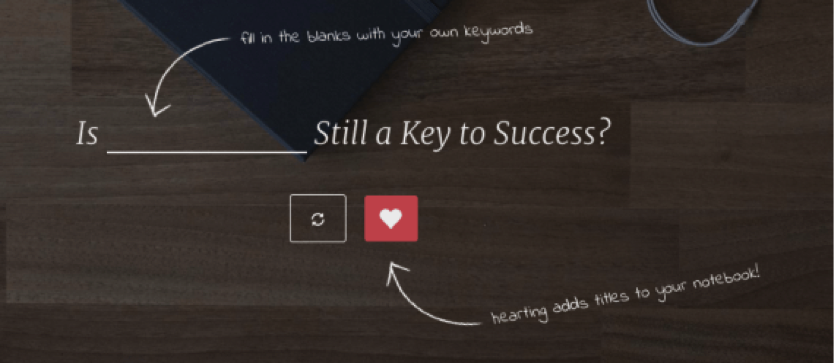 BlogAbout offers several ways to generate ideas for titles and even a feature to save your favorite ideas into a notebook. Simple and fun with a very nice layout.
Click here for the BlogAbout Title Idea Generator
Portent Title Maker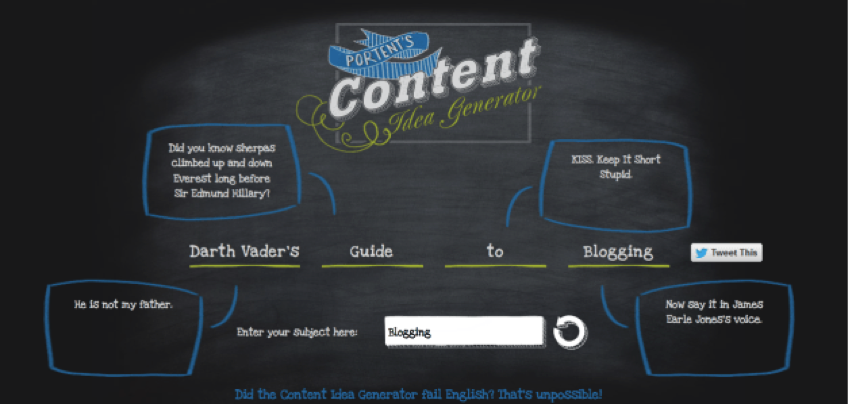 This one is a blast to play with. In addition to headline ideas it explains each piece of the headline it suggests so you understand it learn more about great headlines in the process. Set a timer before you go to this site or you may be there a while…
Click here for the Portent Title Maker
HubSpot Blog Topic Generator
Enter three subjects and get back a week worth of blogging ideas. Comes up with some very interesting titles and is great for business bloggers.
Click here for the Blog Topic Generator
Emotional Marketing Value Headline Analyzer Tool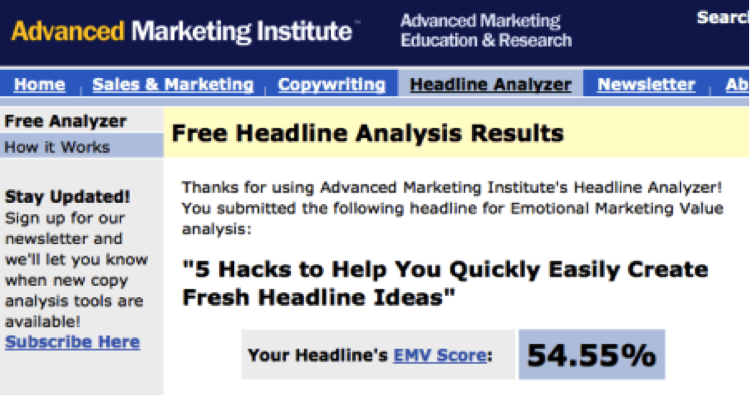 Will your headline connect with your audience on an intellectual, empathetic, or spiritual level?
Test it out with this tool and see what comes up. Then change a few words and see what difference it makes.
Click here for the EMV Headline Tool
Tweak Your Biz Title Generator

Want a LOT of ideas? Just put a word into this spinner, tell it if your word is a noun or verb, and hit the green button. You'll get an avalanche of ideas!
Click here for the TweakYourBiz Title Generator
HookLine Dynamic
Take any idea you've got and turn it into an amazingly magnetic headline with this tool. Swap words in and out, and watch as the excitement, emotion and empowerment scores update so you can measure your variations against each other to choose the best.
Click here for the Hookline Dynamic tool
The "Get Ideas" Tool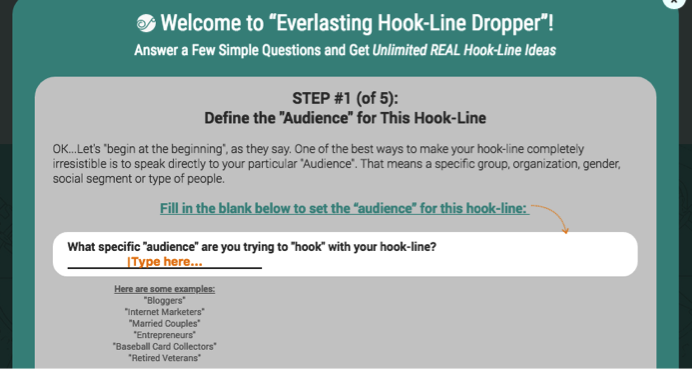 Hidden inside the HookLine Dynamic tool, the little "Get Ideas" button will help you brainstorm some of the most curiosity-driven and magnetic headlines you've ever seen. It's based on the psychology and format behind today's biggest viral posts, and applies those principles for your audience and subjects.