Want more traffic to your blog posts? Write better headlines… It's time to get creative and come up with fresh twists on your ideas that stand out and get noticed amidst all the "noise" online.
You could sit around for hours, painfully attempting to brainstorm and wrack your brain for ideas… or you could get smart, save time and hack your way to attention-grabbing headlines.
Remember: A hack is a clever and ingenious way to solve a problem or overcome a challenge.
Usually a "hack" allows you to do something quicker, and with less energy or brain power, while arriving at a desired (and even better) end result.
So, with the tools below you can easily "hack" your way to more creatively fresh headlines and save your brain!
BlogAbout Title Idea Generator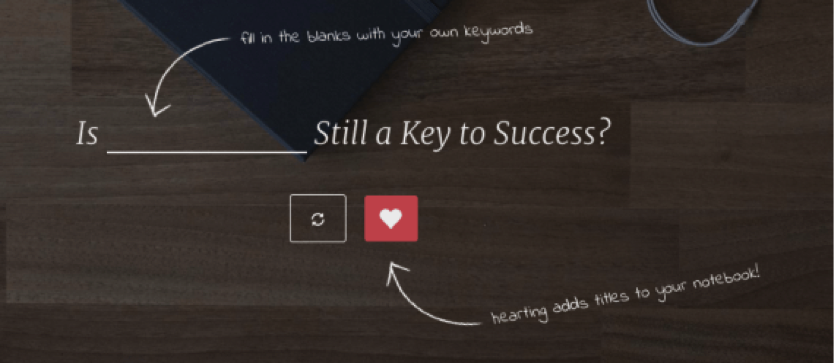 BlogAbout offers several ways to generate ideas for titles and even a feature to save your favorite ideas into a notebook. Simple and fun with a very nice layout.
Click here for the BlogAbout Title Idea Generator
Portent Title Maker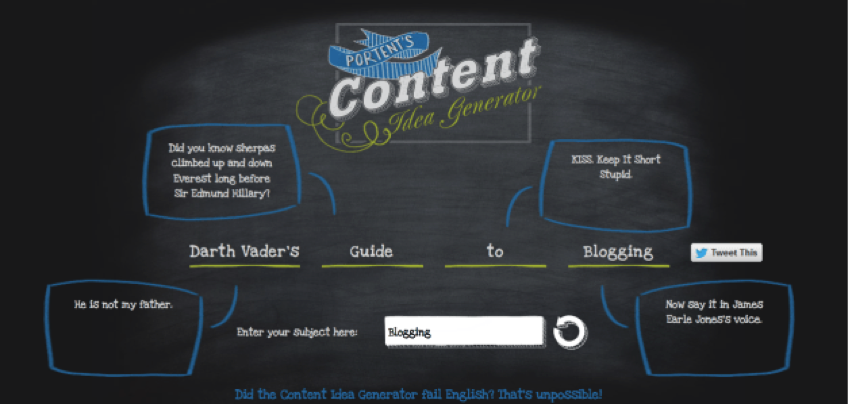 This one is a blast to play with. In addition to headline ideas it explains each piece of the headline it suggests so you understand it learn more about great headlines in the process. Set a timer before you go to this site or you may be there a while…
Click here for the Portent Title Maker
HubSpot Blog Topic Generator
Enter three subjects and get back a week worth of blogging ideas. Comes up with some very interesting titles and is great for business bloggers.
Click here for the Blog Topic Generator
Emotional Marketing Value Headline Analyzer Tool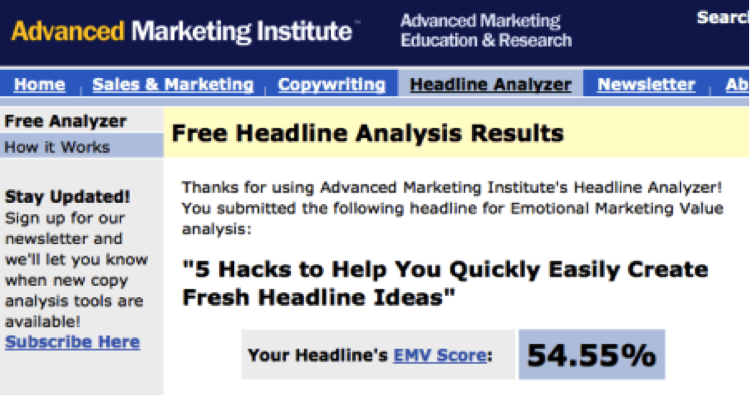 Will your headline connect with your audience on an intellectual, empathetic, or spiritual level?
Test it out with this tool and see what comes up. Then change a few words and see what difference it makes.
Click here for the EMV Headline Tool
Tweak Your Biz Title Generator

Want a LOT of ideas? Just put a word into this spinner, tell it if your word is a noun or verb, and hit the green button. You'll get an avalanche of ideas!
Click here for the TweakYourBiz Title Generator
HookLine Dynamic
Take any idea you've got and turn it into an amazingly magnetic headline with this tool. Swap words in and out, and watch as the excitement, emotion and empowerment scores update so you can measure your variations against each other to choose the best.
Click here for the Hookline Dynamic tool
The "Get Ideas" Tool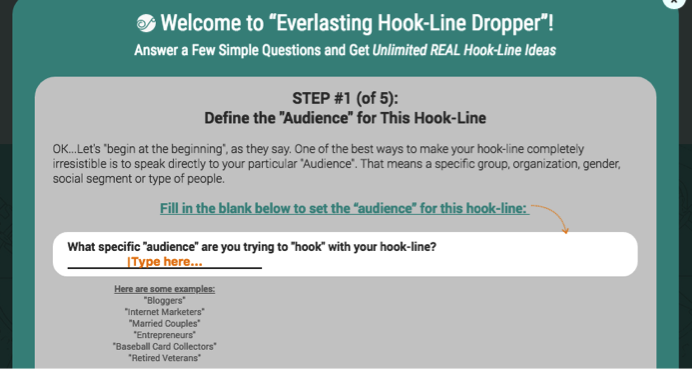 Hidden inside the HookLine Dynamic tool, the little "Get Ideas" button will help you brainstorm some of the most curiosity-driven and magnetic headlines you've ever seen. It's based on the psychology and format behind today's biggest viral posts, and applies those principles for your audience and subjects.