A few years ago, my husband and I took a trip in a camper van up the Pacific Coast Highway in California. It was the perfect #roadlife instagram friendly vacation. I was stunned by beautiful vistas – but also by the "made for Instagram" stops where people were more or less lining up to get the perfect shot. I thought – I *never* would be able to make this work for my business. I am just not all that photogenic 🙂

So, I spend my time mostly on Facebook, on LinkedIn and on Twitter… the only place I haven't been much is Pinterest… but that is about to change.
I'm a member of Affiliate Triad and the first month I joined, they were promoting a class on Pinterest. I decided to learn more. Before I jump into what exactly I've learned… they are doing the class again and it's worth your time. You can register here:
How We Drove 168K+ Targeted Buyers To Our Website With Pinterest 
Pinterest encourages people to leave their site
The goal of Facebook is to get people to stay on Facebook. Twitter allows links, but they really want you to follow the threads and comment on the site.
The whole culture of Pinterest is linking AWAY from their site. In fact, in this training you'll discover how to link directly from Pinterest to your sales pages, opt-in pages, ecommerce listings, affiliate offers and blogs and/ or podcasts.
Literally, with Pinterest, you can generate traffic and send it to just about anywhere you want. 
Pinterest reaches people who are already interested in your offer
Most platforms are bigger than Pinterest. For example, Instagram absolutely does have a larger number of people on the platform when compared with Pinterest.  
Instagram has about 1 Billion users, versus the 250 Million on Pinterest.
But who cares when Instagram makes it extremely difficult to get clicks?
Volume of traffic means nothing unless YOU are benefiting.  And the way Pinterest is set up, it can generate targeted clicks from people who are already interested in your niche or subject matter and many of them have a high buyer intent.  (You'll learn how easy it is to tap into this in this week's special training!)
Pinterest is the Social Media That Keeps on Giving

According to an article on WebFX, who crunched the numbers on the longevity of social media posts, they found… 
The half life of a Tweet is 24 minutes.
The half life of a Facebook post is 90 minutes.
The half life of a LinkedIn post is 24 hours.
The half life of an Instagram post is 48 hours.
The half life of a Pinterest pin is 3 ½ months!
In fact, our presenters have had pins that have driven traffic to their website for over 7 years!
Their experience will show that you get the most benefit (in traffic), from the least amount of effort posting – aka pinning – on Pinterest.
Pinterest Users Are Future Buyers
When people browse Instagram or Facebook they're often there to explore a bit, look at their friends or artists profiles, and they generally go there to relax. On LinkedIn, people are looking for a job. On Twitter, they are picking a fight 🙂
So it's very much a "personal brand" kind of platform… think of your Kim Kardashians of the world.
Pinterest, on the other hand, is where people start planning to do things.
They make shopping lists, save pins for future purchases, and can easily be taken to other websites.
If you have a personal brand and don't really plan to sell anything other than that, then Instagram may be better for you.
If you sell any kind of physical products, training programs or have a business you'd rather promote, then Pinterest is your best bet and you'll discover how easy it is, during our training this week:
How We Drove 168K+ Targeted Buyers To Our Website With Pinterest 
If you go the training, let me know how it goes… and check out my cool online marketing infographics board here.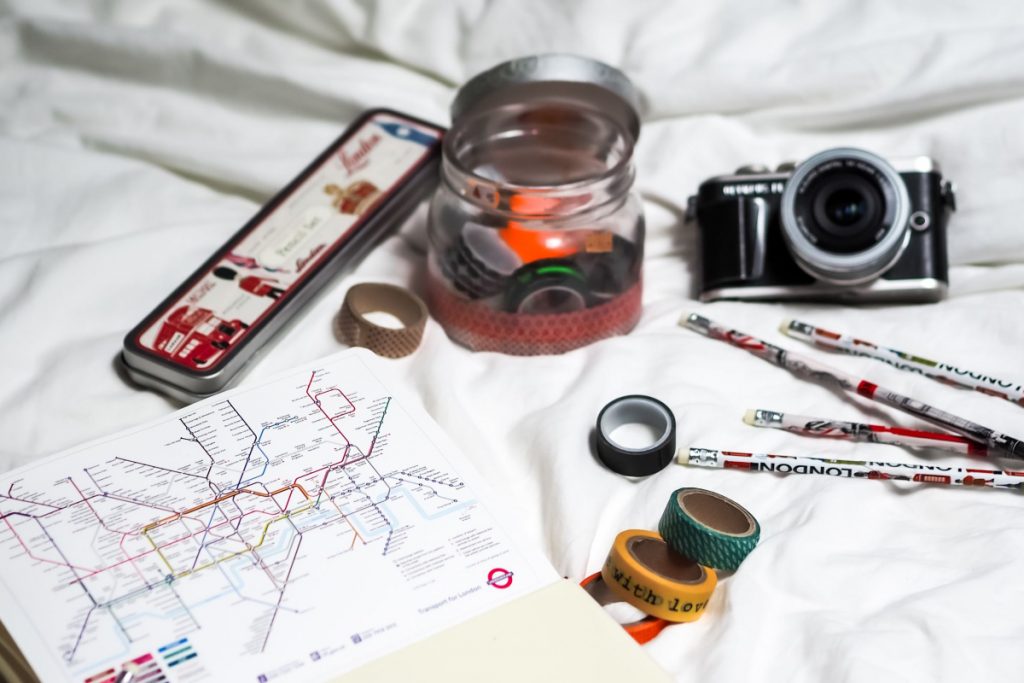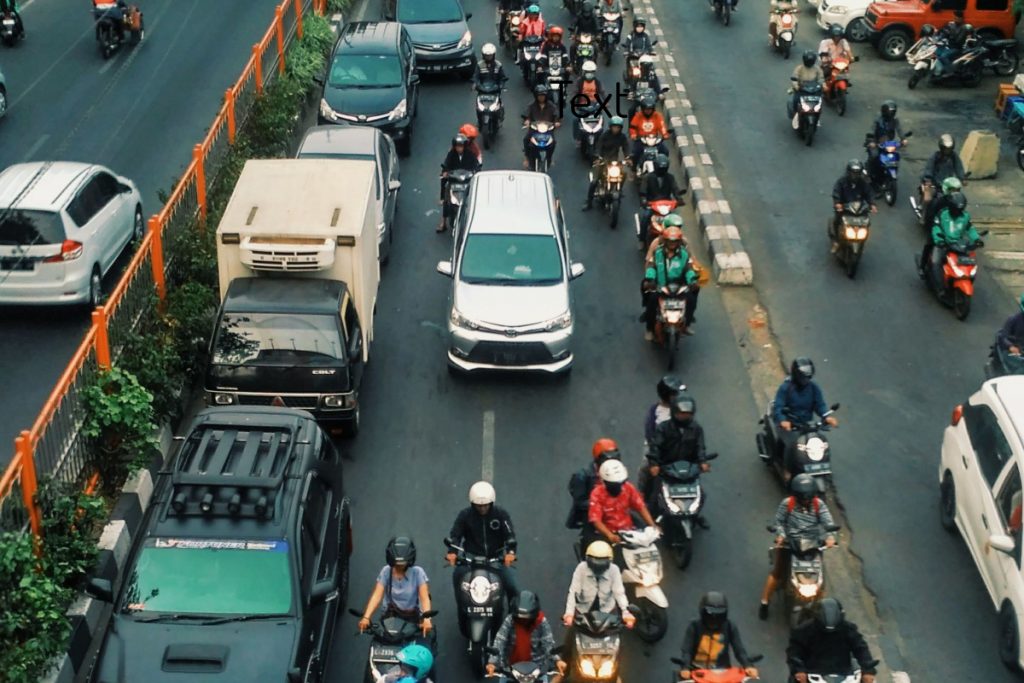 Last Friday, I was very surprised to land in a traffic jam. Firstly, I don't live in a very traffic-prone town and since the beginning of the pandemic there just honestly haven't been that many folks out and about. I was running late – so I got very frustrated.
Can you relate? Being stuck in traffic (or in a long, socially distanced grocery store line) is beyond frustrating. It is like your life is in a deep freeze – you aren't moving and there is nothing you can do about it.
You are trapped.
And, it is often the smallest of things that cause traffic roll to a stop and stay there. A tire rolls off the road, someone gets in a fender bender. In New Mexico, too much rain can cause a gigantic traffic snarl.
It's a lot like your business.
If everything goes smoothly then your business hums along with no issues. Life is good. But, one thing goes wrong and all of a sudden – you are stressed and wondering how you are going to get all those to dos and deliverables done and still have time to put the kids to bed.
Generally tho, there is one core task that is the critical to the survival of your business. One ball that you can't afford to drop.
For one business, that might be following up with people on Facebook to book discovery calls.
Over the past decade of supporting online business owners, I've noticed that businesses start to fail when the business owners stop being committed to their basic money making task.
It usually unfolds like this…
You get a big client or two or three. In order to service the clients, you let the marketing go… but then when the job is over, there is nobody in your pipeline and your business suffers.
So, then you decide that you need to outsource something to someone else…
This is where you're going to have to decide what you outsource or offload to someone else. When you do that you need to make sure that you are not offloading your main money making tasks – the things that need to get done.
Automation, as well as outsourcing, can help you move out of the traffic jam. Click here to sign up for a free funnel audit and find out how you can use Active Campaign to take more off of your plate.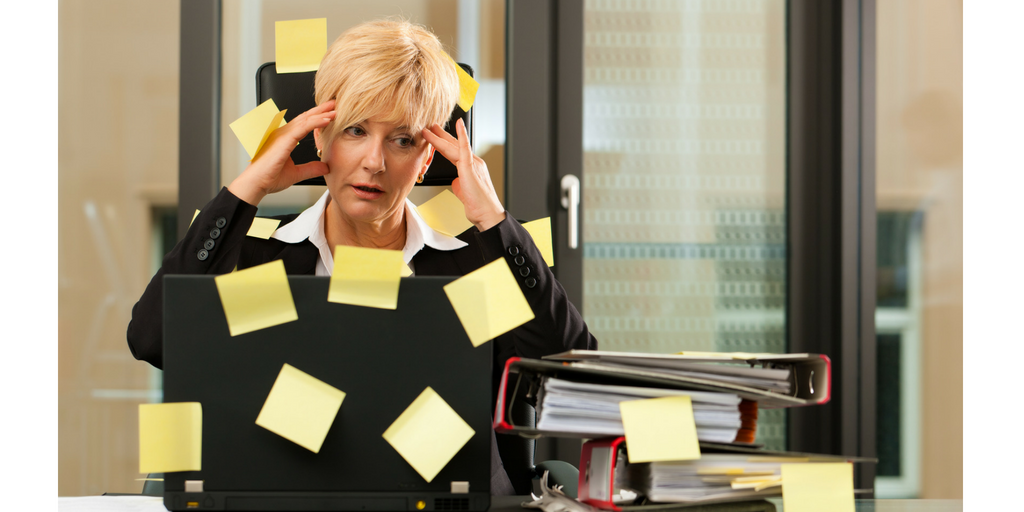 "Don't fear the man who knows 1,000 techniques. But fear the man that has practiced one technique 1,000 times."
-Bruce Lee
He might as well have been talking about online business.
Have you noticed how there's always another trend popping up?
One day, it's Amazon. The other, it's building your own online marketing agency. Then, it's back to ecommerce. Next, it's cryptocurrency. Then, it's something else. (And, if you are a curious little squirrel like me, you feel a *huge* need to check everything out…)
And, the problem with that is all of a sudden everyone else is following the hot new trend too – and you aren't sure who does what – exactly – any more…
Yes, you are the leader of your community and you want to get out and ahead of what's working — but on the other hand, if you keep following the trends, you risk being a flip-flopper.
Now, here's the problem with flip flopping.
It's basically the version of you knowing 1,000 techniques instead of having practiced one for 1,000 times. (See the quote at the beginning of this blog post)
So, why is that a bad thing?
The customers won't trust you when you try to teach or do any of the 1,000 skills you know because they can feel it in their bones you haven't put in the time to master any single one of them.
You've confused them… and a confused mind never buys… This is not the path to sales or business growh.
OK… so what would it be like to take the opposite position and truly hone your craft?
Imagine someone who keeps mastering their one technique… and sticking with it. These are the few everyone sees as reliable and seasoned.
Not because they know everything.
But because they know how to do one thing very, very well. In the case of Solo Biz Hackers, that ONE thing is Email Marketing with Active Campaign.
What is your one thing?
When I bring this up with clients, the pushback I get is their "thing" is not the bleeding edge any more and that is isn't worth doing. Nothing could be further from the truth.
For example, do you think SEO really is out of fashion? Not at all.
However, most marketers don't pay much attention to it because right now it's not the hottest, latest thing. But is it reasonable to assume that people who have been eating and breathing SEO for the past 10 years have no lack of customers who come to them cash in hand, ready to pay the price they name? Of course.
The key is…
Mastering your field.
One who is consistent and doesn't bend to every new trend popping up.
So the next time you see a huge trend popping up on the horizon… don't get tempted to abandon the steady ship you're on right now.
Instead, see how you can leverage this new trend… within your current field.
That way you don't turn into yet another "flip flopping expert" while at the same time you stay relevant according to current events.
And if you think a new trend has absolutely nothing to do with you, ignore it.
Oh and by the way, if you think you don't know what your field is yet… just commit to one thing, it doesn't even matter that much what exactly it is. Choose what you like best. And master it.
It's counterintuitive… but it's the fastest way for you to build a life-changing business.
So, again… what is your ONE thing… Leave your answer in the comments and let's support each other!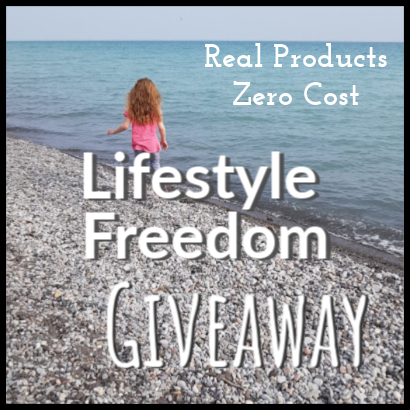 It looks so tempting… for opt-in once and get access to 50+ "full-sized" products to help you with your business…

The problem is that you already have a hard drive full of e-books and resources from previous giveaways that you haven't had time to go through yet. It is even worth your time or email address to participate
Here are 5 good reasons to opt-in for a giveaway
Although participating in a giveaway *can* be a big waste of time and and drive space – there are a few good reasons why you should consider opting in.
You can get information and resources you need in your business. With 20 – 50+ products on offer, there is bound to be something in the bundle that you can use. If that is the case, opt-in and grab what you need.
You can learn something new. Again, with dozens of products, something might catch your eye that you hadn't really considered learning or something you had always been a bit curious about. Grab that resource and check it out.
You are looking for potential collaborators, affiliates or partners Getting a product sample from a variety of potential collaborators is a great way to find partners and affiliates who are a great fit (or who are NOT a good fit).
You want to get better at copywriting When you subscribe to someone's bundle, you'll have a chance to experience their funnel. Reading other people's emails is a good way to get better at writing yourself.
You are thinking of hosting or participating in a giveaway yourself. Participating or opting in for a giveaway is an excellent way to see an example of how the event is laid out – and to decide how you can improve on the process for your event.
BONUS HINT: Don't sign up for everything – you'll just get overwhelmed. Pick 2 -4 great resources, opt-in and enjoy.
I'm participating in a giveaway right now – the Laptop Lifestyle Giveaway. Come check out my free course and all of the other great resources here.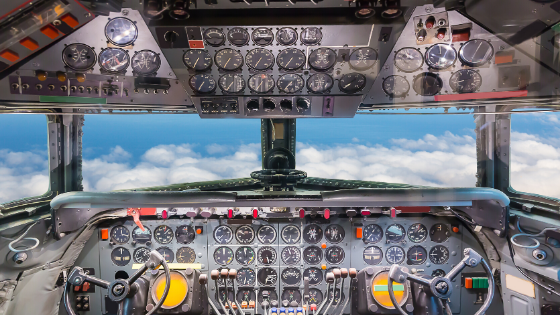 From "The ESCAPE Plan – 6 Steps to Leaving the Job You Hate by Creating a Business You Love", by Meredith Eisenberg & Jasper Blake
ahhh….. the good old days.
Opening a business was as simple as setting up a folding table in your local park. You had a shoebox to collect money and sold the lemonade that your Mom helped you make. If you were particularly on the ball (or had parents who worked in local government) you might have spent $10 for a permit to sell lemonade in the park. Otherwise, the mechanics of running a lemonade stand are pretty basic.
Fast forward to 2020, you now run (or are starting) a virtual business with clients from all over the world. Just like a lemonade stand, you need basic infrastructure—but the mechanics are slightly different when your business is primarily online.
Of course, you can do anything more easily if you have the right tools for the job. Unfortunately, a lot of entrepreneurs get stuck in a sort of analysis paralysis when it comes to choosing the right tools for their business. Don't let that happen to you. Read this post and get the answers you need to choose a system that will work for you.
What Do I Really Need?
Of course, it is really impossible to answer this question without knowing specifics about your business. But, generally, you need:
A way to communicate with your customers (usually this is an email/autoresponder service). Autoresponders let you pre-schedule emails to be sent at a certain time. If you try to send an email from your personal email address using Outlook etc to a list of more than a few dozen, your email will likely be relegated to the spam folder.
A way to keep track of your prospects and customers and track their engagement and interaction with you. This tracking system also tracks your prospects progress through your sales funnel as they become customers.
A way to collect money (because if you are not collecting money, you do not have a business). Of course, there are many more nice-to-have systems including social media, a website, a referral (or affiliate tracking system), etc. In this book, we are focusing on the big two: email marketing and e-commerce.

How Do I Communicate With Clients Through Email?
It has never been easier to communicate with large groups of people. Social media makes it simple to spread your message to thousands with a click of the button. Your permission-based email list is the biggest asset you have as an online business owner. Your subscribers are the people who WANT to hear from you. They are the people who are more likely to buy your product. Most importantly, you can continue to communicate with them even if you change mailing list providers (you are not at the mercy of a social media site that can lose popularity in a heartbeat… remember MySpace?).

Great, Why Can't I Just Use Outlook?
In the U.S. (and this applies to anyone who markets to people in the U.S.), the CAN-SPAM Act has specific requirements for emails that include not sending to anyone who has not specially asked to receive emails from you; including a physical mailing address in the footer of each email; and a way for people to unsubscribe. This is one of the main reasons that you cannot run your list from Outlook—email service providers make sure that you are complying with CAN-SPAM so you don't need to worry.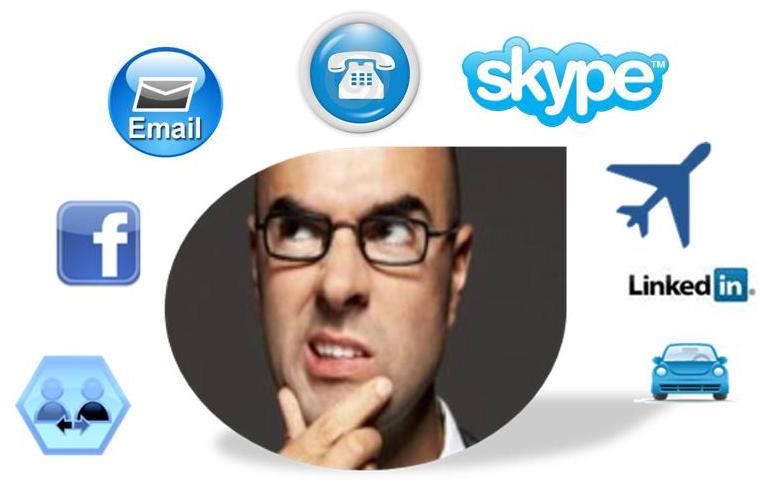 The other reason you need an email service is that the email services have agreements with the major Internet Service Providers to let their emails into your inbox. If you try to send emails directly from your email box, not only are you going to have to manage the unsubscribe process manually, there is a big chance that your message will end up in your client's (or potential client's) spam folder.
What Do I Look for in an Email or Autoresponder Service?
There are two types of email services—stand-alone or connected to a shopping cart or CRM (Customer Relationship Management) program. I'll talk about the pros and cons of an all-in-one system v.s. a standalone system later.
First, let's focus on the features you want to make sure you have in any email service you choose.
The ability to segment contacts into different lists based on what they opted in to. When someone opts in they should automatically receive initial and follow up emails based on what they requested, not on all subjects you are emailing about.
The ability to segment contacts based on purchasing history. You should be able to remove people from your prospect list once they have purchased so you are not sending prospect sales emails for a specific product or service to people who have already purchased that product or service.
An email editing/creation service that is easy to use. Templates are a plus—but if the basic editor is working well, you shouldn't need them.
An easy way to create an opt-in form (a way for people to sign up for your list) and put the form code on your website.
Easy to understand tracking—so you can track what is working well and tweak what is not working as well.
BONUS FEATURES In addition to functional email sending and tracking, having automation (the ability to segment people into lists based on their clicks and other actions) is highly desirable. With a little bit of practice and guidance, it is pretty easy to create work flows, sometimes called sequences or campaigns, to automatically take care of basic customer service tasks. A new feature that is just rolling out is demographic research. For pennies per contact, you can have your 'electronic minion' add publicly available information about a contact to your database. Because the computer does the work for you, you don't have to pay a virtual assistant to do this time-consuming research. You can find out where a contact lives, how much money they make, and if they have children. All very useful information if you want to target a specific segment of your demographic online.

How Do I Actually Get People On The List?
The rules are simple. Everyone who is on your list must 'opt in' or accept being on the list. Most of the time, people will come to your website and opt-in in exchange for a small free sample of your work (a great checklist, an audio, a coupon…). You CAN collect business cards and add people to your list manually—but be very sure that the people actually want to be added to the list before you add them. (I tear off the corner of the card if the person has asked me to add them to my list.)
Now, that we know a little about the email communication side of things; let's look at the e-commerce or shopping cart side.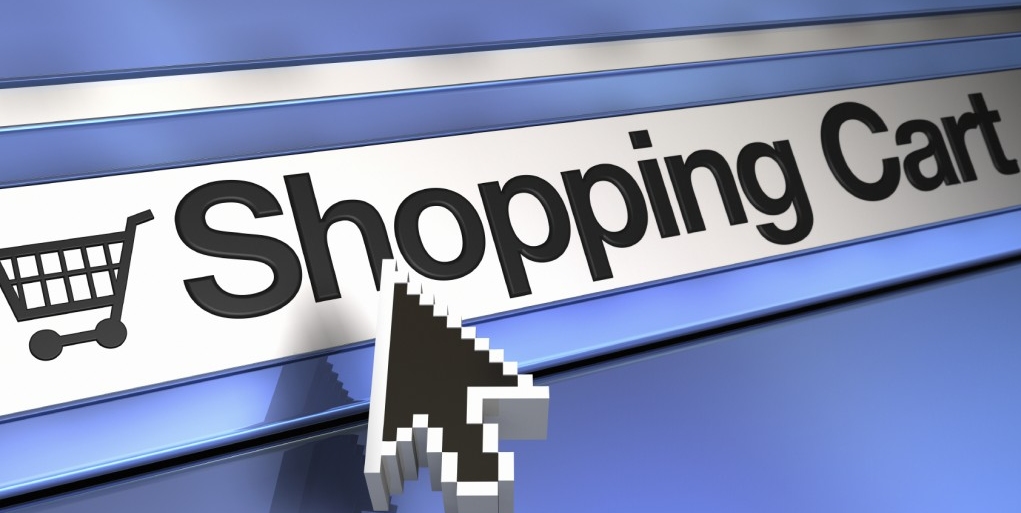 How Do I Collect Money Online?
(What does a shopping cart actually do?)
From a customer perspective, buying online is a pretty straight forward venture. You go to a site, fill out a form, give your credit card number, once your credit card is accepted, you get a receipt and you can download your order (or your order is mailed to your home). The buying process actually is a three part process involving your shopping cart program (i.e. Infusionsoft or ThriveCart), a payment gateway (i.e. authorize.net), and your merchant account.
How Do You Choose Which Services to Use For Your E-commerce Process?
This depends on what you are selling and where you are in your business. There are four different types of e-commerce solutions. In this book, we'll cover three of them. The fourth is a shopping cart for a company that has hundreds of products.
A complete back-end system includes an email component, an e-commerce component and a customer relationship manager component.
Here's how this looks in the different stages of your business:
1. The Virtual Lemonade Stand
When you are first starting out, it is likely that you'll start with an email service that is free for the first few hundred (or even few thousand) subscribers, and paired with a simple payment app like PayPal or Stripe.
Using PayPal on your website is very easy. You create a 'buy now' button in PayPal. After filling in information on the name of the product, the price, whether or not taxes are included, PayPal gives you the code to paste into the html section of your website.
PayPal also talks to a number of autoresponder services (including AWeber, MailChimp, Active Campaign). Go to the help menu of your autoresponder service and look up 'PayPal integration' to see if yours is one of them. If it is, your buyers will automatically be added to your email list when they purchase.

OK, you are probably saying, that sounds dead easy, why would I want to use anything BUT PayPal? Here are the disadvantages:
PayPal does not work well for recurring subscription payments because users can cancel their subscription and you are never notified. This is why many shopping carts that integrate with PayPal don't support recurring payments or subscriptions.
You are at the mercy of PayPal. PayPal has an aggressive fraud prevention program. They can freeze your account at any time without warning— effectively shutting you out of business if you don't have an alternative way to collect payments. This does not happen often—but is DOES happen (usually to people who process large amounts of money through their PayPal account.
PayPal charges more than your average merchant account to process payments. They can do this because they offer a very complete payment solution. Unless you sign up for Website Payments Pro (an additional monthly fee), visitors will be taken from your site to complete their payments with PayPal.
AWeber and MailChimp both have integrations with PayPal so that buyers end up in your email database. If your email doesn't integrate with PayPal you can create an opt-in form for your thank you page so customers can add themselves to the list of purchasers.
Also, LeadPages (which I'll talk about later) has paypal and email integration and could be a nice option if you are just starting out.
2. Moving Up to a Co-working Space
Eventually, if your lemonade stand is successful, you'll want to move into a space with more amenities. Maybe you'll go join a co-working space or rent a cubicle in a shared office space.

It is time for your own shopping cart. Our favorite shopping cart is ThriveCart. For a small lifetime fee (and no ongoing fees) ThriveCart provides a good balance of cost vs. features.
ThriveCart includes:
customizable sales pages
coupons
an affiliate program
sales tracking
integration with several leading membership sites
integration with several autoresponders (including Active Campaign)
the ability to easily offer different payment plans, etc.
and more.
(If you buy ThriveCart through our affiliate link, we will gift you with a free "get unstuck" session to help you get your first product set up.
3. It's Time For Your Own Office Building
Congratulations! Your business has grown and now you are on your way. You have more work than you can handle and you need a system that can help you take care of your customers so that nothing (or no-one) falls through the cracks.
At the top of the scale, are all-in-one programs that include a CRM (customer relationship management) function as well as email and e-commerce.
Until recently, powerful CRMs were only available to large companies. Now, more and more e-commerce/email systems are including a CRM component in their systems.
The advantage is that you can track, manage and automate because *everything* is in one place. Historically, the big disadvantage of the complete all-in-one system has been the price. Although, if you add the cost of all the components of a 'cobbled together' system, you may find that it is less expensive to move to something that includes everything you need.
We live in an age of customization. Providing highly personalized service and communication helps your clients know, like and trust you. They read your emails and feel like you are reading their mind.
This magic is possible through constantly collecting data about your customers and using it to tailor every communication your customer gets from you based on their needs. You can use your CRM to determine which customers are engaging with you so that you can offer them special deals.
Infusionsoft, Ontrapor. Kajabi, Clickfunnels and Kartra are true all-in-one systems that track your customer's purchase clicks, social media engagement, web page visits and more — and then automatically tailor your marketing to match their actions.
Now That I Know the Basics, How Do I Choose?
We've covered the basics of email, shopping carts, and customer relationship management systems … now on to the good part— how do you choose the right system for you?
One of the reasons people get stuck is that they think that they are 'marrying' their choice of systems, rather than choosing a system to use for now (while it makes the most sense for their business). In fact, you'll likely migrate through two or three different systems if your business is successful.
Just like moving to a new office space, there are costs involved, (lost time, lost customers, set up time). Moving when you need more features or more automation is always the right thing to do.
You should choose the system that will work for where you want to be in six months to a year. You should have some room to grow into the system, but it doesn't make sense to invest hundreds of dollars a month on an 'all-in-one' system when you don't have your first client yet. There will be plenty of time to do that later. One thing to remember though, you will lose customers in the move. Many list providers require everyone to confirm that they still want to be on your list. It can be disheartening to lose a third of your list when you change, but this is completely normal.
Plus, it has the added bonus of helping you get rid of people who no longer really still want to be on your mailing list. Think of it as pre-moving house cleaning.
Now, that we've gotten that out of the way… here are five steps to choosing your ideal back end system.
Five Steps to Choosing Your Back End System
Know your current business systems. By spending time thinking about what your current processes are you'll get a better idea of what you need the system to do. I guarantee you DO have processes and systems (even if they're not written down).
Make a list of all the things you want your new system to do, who is doing that now, how much it costs to have those tasks done (take into account both team costs and software costs). Your current costs (including staff time) are a good baseline for your monthly budget for your new system. Note, different systems have different strengths—i.e. one might be good for affiliate programs while another rocks at membership sites. The least expensive option might not be the best for your situation.
Take into account your business growth. Are you adding a new affiliate program? Will you be using more social media? Adding a text message campaign?
Armed with a list of what you need the system to do, start asking for recommendations. Be sure to ask people who have businesses similar to yours. What works for your favorite guru might be the entirely wrong system for you.
Pick a system or two and get demos, ask for trials, etc. See which system is easiest to use for you and for your team. Decide whether to pay for expert help getting your system set up. This is often worth it because setting a system up right in the beginning pays huge dividends later because you don't have to re-work your system.
And… that's it! Now, that you have your shiny new system in place—go out there and make some money.
Tips and Inspiration:
Andrew Gunn – Keep It Simple
"The internet can be very overwhelming at first—and I have gone through this myself several times over the last 12 months. You can get a day here or a day there where you can get completely overwhelmed by the sheer enormity of the thing that the internet is. It can be quite scary, because for a lot of people it can be quite technical, especially if you don't know how to use a computer—how do I set up an opt-in page—how do you set up an autoresponder? When I was reading about all these things I did panic.
I thought that there is so much that you think that you need to know. But essentially, when it gets right down to it, there is a really really simple basic model—and if you keep reminding yourself of that simple basic model of:
Finding a hungry crowd of people that want to listen to you and buy your stuff, because you are offering something that they need and they want, and then;
Present it to them—so that they can;
Purchase from you, and then you just;
Repeat the process."
Sound too daunting to do this alone? Join our Solo Biz Hacker Collective or similar type mastermind group and get some good beginning support at a reasonable price. Lean on the club to get the basics and spend the money later on for coaching when you are ready for the more advanced strategies and tactics of your business.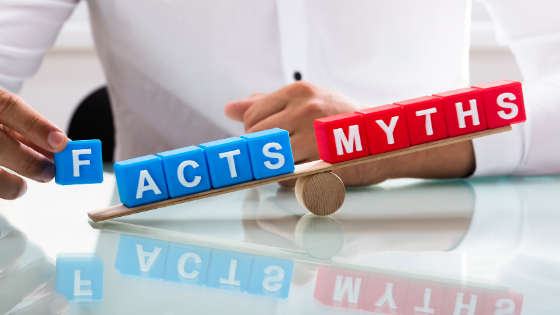 Myth 1: You Can Make Money in Your Underwear
The first myth is the dude in his early twenties, in his underwear, beer in one hand, telling everyone how he makes money while he sleeps. Even if you have the most amazing product or service that 'sold itself', there is still customer service that needs to happen, in order to keep that business.
And, you need to continue to market the product or service. I also believe that you cannot really make money completely virtually. There is some advantage to getting out and meeting people in your area who are doing things similar to what you want to do.
If not in your local area then at least in your particular field—at conventions, etc. Interactions with other like-minded individuals are inspiring and motivating.
Another version of this myth is the ATM or Automatic Cash Machine. Just send out an email and money will magically appear in your bank account. Often promoters of this type of system will show you an image of their latest bank statement (which is illegal by the way). However, what they don't tell you is that most of the internet marketers who have this sort of 'cash machine' have spent years perfecting it and have probably soaked up most of the best market. Many have a full-time staff to help with technology and marketing… which brings us to Myth #2…
Myth #2: Making Six Figures All By Yourself
The first online marketers you come across are people who are already pretty successful. They are 'visible' precisely because they are successful. These people are making at least six figures—and some are making seven. Some of my clients are making half a million dollars a year in this model of business. You see their marketing, you see their emails and you see their face all over everything. Perception may lead you to believe that they are, by themselves, behind their computer, making all of this stuff happen. Everybody has the same 24 hours and I can tell you that those people are not making everything happen in their businesses. They have a team! They have a team of probably a minimum eight to ten people who are working almost full time to make this happen for them. This brings us to Myth #3…
Myth #3: Making Six Figures Means You Are Doing REALLY Well
When the 'gurus' talk about their revenue—they are giving your their overall gross revenue numbers. This number is what they made before they paid out any expenses in their business. In actuality, they could be making hundreds of thousands in income but pocketing less than minimum wage. Don't let this scare you off from starting a passion-based business because it doesn't have to be like this.
The nice thing about virtual and online businesses is that your expenses should be on scale with your revenue if you manage it correctly. In the beginning there may not be a lot of expenses, but because you are not putting a lot of money into your business you are not making as much revenue. As more income starts coming in you can plow more money back into your business, which in turn helps you to make even more revenue.
Our E.S.C.A.P.E. Plan shows you how to scale up and expand your business when you reach the point where you are ready to do so (and before you reach the boiling-over point).
Myth #4: The Overnight Success
I have been in business for over eight years, and I have yet to meet a true overnight success.
As an example, it is a myth that you can put out an e-book and people will start buying it and you will make a $1000 dollars a day on sales from your $27 e-book. In order to achieve that level you would need to sell 500 e-books a day. That's a lot of e-books! You will be doing very well if you sell a couple hundred a month!
We've interviewed almost 100 entrepreneurs on our Paycheck to Passion Podcast. We asked them how long it took them to start seeing success. Want to guess how long they said? The answer is 18 months to 3 years. And that is not even how long it takes to reach a six-figure revenue. Eighteen months to 3 years to where they could comfortably quit their day job and feel like they were not going to be homeless in a box on the street. This isn't a quick and easy thing. Your business, just like any other business, is going to take time to build.
Take the case of Garrett Robinson. Garrett is an author who sells fantasy fiction books. He expects to make about $200 a month from selling one of his titles on Amazon. Obviously, $200 a month is certainly not enough to make a living. However, when you have 30 book titles each bringing in $200 a month then making a living as a writer suddenly becomes a lot more viable. You can't write
30 books overnight but possibly you could write 30 books in a year which could generate enough income to make a living.
Myth #5: All the Good Niche Markets are Gone
The next myth is that every good niche market is taken and that it's too difficult to break through all the noise of people vying for those niches. The reason this particular myth just is not true comes down to the sheer size of the internet market base. There are billions of people on the internet from all over the world. We have a very big international client base in Solo Biz Hacker. We have people from everywhere—the United States, Canada, Great Britain, France, Bahrain—taking our classes and being a part of what we are creating and offering.
The people who participate in our programs could choose from hundreds of others who teach the same information but others won't be teaching in quite the same way. Our clients choose to work with us because there is something about the way that we teach that resonates with them.
No matter what your niche market is, even if it is something really competitive like weight-loss, if you are authentic and true to yourself then there is no competition because nobody can be YOU but you.
We find this is especially true for artists, because your art is completely personal. You are selling yourself, your process, your story—it is not just art you are selling. Finding and connecting with people that 'dig' what you are doing is what will create your success.
Myth #6: You Need to be a Tech Wizard to Have a Business Online
The next myth is that you have to know how to do everything technical yourself. You may believe that it is your job to create your website; to set up an auto-responder; to set up selling with an e-commerce storefront; to figure out how to hook PayPal in with your auto-responder; to figure out what kind of merchant account to get; to figure out how to put Facebook pixels on your page in order to retarget your ads and even how to run the Facebook ads in the first place!
Fact: you don't have to know how to do anything online to be successful. There are people skilled in each of the tasks above who provide services and who specialize in every area of technical support you may need. If you're not technically adept, you can easily hire someone who is.
I spent the first seven years in my business doing precisely those technical kinds of things for people. It was something I enjoyed doing. To expect that you, personally, as an online business owner, have to know every little in and out, is like saying that you have to know how every little bit of your car works in order to drive the car. This is simply not true and a lot of people feel discouraged because they feel intimidated by the technological aspects of running a business.
The sheer volume of 'stuff' that there is to learn can be overwhelming. One of the best insights we had was from an interview with British entrepreneur, Andrew Gunn. As a film director, he found that he was no longer getting enough work to sustain his family and he was forced to find a new way of making a living. That's when he discovered internet marketing. Andrew had to learn everything from scratch.
Andrew's interview really shows you that it can be done. Listen to Andrew's interview at http://bit.ly/1F00Miy
Myth #7: You Need to Spend Most of your Time Working ON your Business not IN your Business
This is the belief that you need to be spending 100% of your time ON marketing your business and making sales. Our problem with this statement relates to the issue of making sure you are doing the work that you want to do. If you didn't like your business and if it were not your passion you would not be doing what you are doing in the first place.
The key is to find a balance between being the 'artist' of your business, and being the 'business person'. It doesn't really matter what you are making or what you are creating. You can be making products, or creating coaching programs, it's all the same. That core creative work HAS to come from you. It is the stuff that makes your business YOUR business. You can hire support staff to do all the necessary tasks that you totally hate doing. Think of an artist who has an apprentice—the apprentice prepares the canvas and palettes, the apprentice rinses out the paint brushes; the artist might also have a marketing person who does all his marketing for him, but what it does is allows the artist to create the art that makes the money.
One of the first things many business owners outsource is bookkeeping. It is a task that is very easy to delegate to someone who specializes in finances and keeping everything financial straight. It is important though to at least understand the basics of what you are hiring a bookkeeper to do—so you don't get ripped off. Take some time to understand which tasks related to bookkeeping you may not want to do yourself. Once you know, then you can keep an eye on what is going on even as you delegate it to somebody else to actually do.
Myth #8: You Need to Spend a Lot of Money to Succeed
It is very easy to spend money in a business. People talk a lot about 'investing in your business and the money will come to you—take out that second mortgage on your house—spend that money and things will start to happen'. To some extent this may be true. Having spent the money you may certainly be motivated to get your investment back!
But you really don't need to spend a fortune (and you shouldn't be taking out second mortgages on your home), to get the support and knowledge you need to get your business started— especially in the beginning. Try to keep your business in the black and refrain from spending money that you don't have. Be sure that you can see the path for quickly recouping your investments. Another place where people spend too much money in the beginning is on their website. People spend $5,000 for a brand- name, handcrafted website—when what they really need is a simple WordPress site that can be created for less than $1,000.
The same thing applies with coaching support. You can spend $100,000 a year on a business coach very easily. You WILL get results, for sure, because you will be very motivated to recoup your investment. In addition, your coach will hold your feet to the fire to make sure that you do!
Alternatively, you could join our Solo Biz Hacker or similar type mastermind group and get some good beginning support at a reasonable price. Lean on the club to get the basics and spend the money later on for coaching when you are ready for the more advanced strategies and tactics of your business.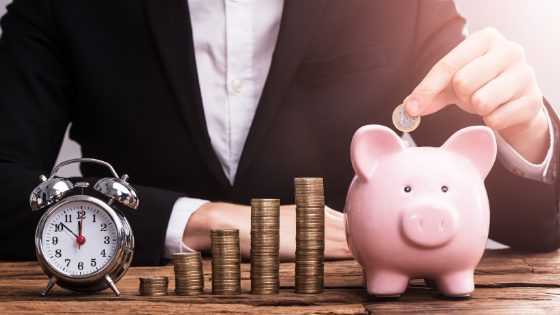 One of the biggest stumbling blocks business owners have is time. Between client demands, marketing the business, family (and maybe your day-job), most businesses are *more* than full-time jobs.

Lack of time makes it hard to invest resources into growing and scaling. Yet, growth is what helps you get to the point where you are making enough money in your business to hire more people, buy more services, etc.
Would you like to have more time in your business?
If you are the ONLY person working in your business or if you have a really small team… YOU are your most valuable asset. Taking care of business means taking care of yourself…
Here are 5 quick tips to help you save time in your business so you have more YOU time.
Fire your worst client
In the past 10 years of working with clients, I've learned that 10% of your clients bring you 90% of your business-related stress. If things constantly feel tense with your client, if they don't pay you, or don't respect your boundaries, fire them. The few times I've had to do this, new work quickly replaced the lost income. And, what's more, I've ended up becoming friends with the former clients. (I had one even thank me for her letting her go because it was a wake-up call that allowed her to get clarity on her business direction).
Upsell an existing client to more services
People buy from people they know like and trust. Your current clients fall into that category. And, you can look like a hero by thinking about their business and how you can help make it grow. Making suggestions for additional ways for you to help elevates you from vendor to partner. It is also one of the fastest ways to add new revenue to your business.
Create an SOP for one business process so you can outsource it
SOPs or standard operating procedures are a great timesaver (even if you never end up outsourcing the process). Taking the time to outline the process into a checklist and getting all the links and materials in one place will cut completion time again and again. Outsourcing is also a big time saver and you can start small. Think of the task you like least in your business and a find a pro to help you with it. Likely, they'll be able to do it faster (and better) than you can. And, you'll have extra time to work with clients or just to relax.
Commit to fixing the one thing you like least about your business
We all have that one tiny thing… You know, the process that you know could work smoother, the Facebook page that you don't ever update, your LinkedIn profile that doesn't have your current company on it. How much time are you spending thinking about that thing… How much time would it take to complete it? Make a commitment to get it done this month.
Let someone clear the path for you
A few years ago, we interviewed over 100 entrepreneurs as part of the Paycheck to Passion podcast. The successful guests on our show had two things in common – patience (growing a business is not instant) and having a mentor to show them the ropes. Not having to guess at "how" exactly to get things done can be a huge timesaver. You can follow your mentors path and learn from their missteps. This is why people pay big money for coaching. (You don't have to – there are plenty of great affordable options out there – including our new coaching program).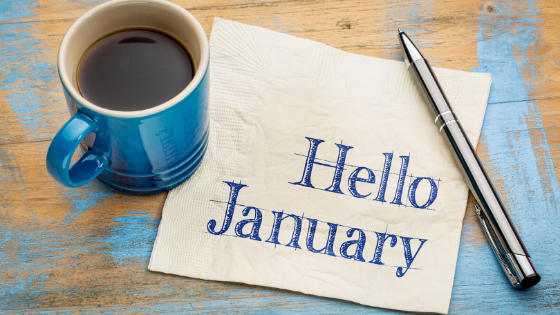 You were a sparkling, new month, kicking off a brand new year full of infinite possibility. You and I – we were so sure that 2019 was going to be *the* year… It was time to break through..

As I flip through the calendar looking at all the goals from all the years past, I realize they are largely the same. I always want to lose weight and find money. I've begun to realize that the goal setting process is less about hitting a target than celebrating progress toward "consistent improvement".

Well… now it's November and 2019 was a good year… and there is a tendency to sort of "give up" about now and coast on in to 2020.

This Could Go One of Two Ways…

How do you want to feel on December 31? Do you want to be happy with what you've done and how you've progressed – or have you resigned yourself to starting over next year?

Let's Try Something New…

Instead of either celebrating or being disappointed, let's reset. It is NOT too late to set business goals for 2019… In fact, two months is a great amount of time to get something done that will make a big difference to you and your business in 2020 and beyond…

In two months you could:

Reach out to 100 new prospects through LinkedIn for Facebook
Launch a new course
Start a podcast
Create a new lead magnet or follow up sequence
Get in the habit of emailing your list more often.
Start a new video channel
For me, this year has been a bit of a mixed bag… some amazing things have happened in my life and business AND I've had a few interesting missed turns… What I've learned is that the quickest way to get back on track is to have a map!

Jasper and I have been working on our business content and offers map for the past week or so. Did you catch yesterday's Facebook live (link to FB live) where we gave you a sneak peek of part of our process.

The whole plan just took a little over 2 hours and I feel more clarity in my business than I have had for a while.  I'm excited for what's on tap for 2020!
We used the marketing map template we taught last summer.   After spending a few hours planning for next year, we agreed that we should host another marketing map intensive for you before the new year starts.
So, we'll be doing that on Thursday, December 19 starting at 11am Mountain time. 
We'll be covering:
How to create products and offers your clients need and will love you for offering
How to create a content calendar that engages your current clients and introduces new people to your business
How to know if the path you are on is working – and how to keep tweaking to get more successful as the year goels on.
When you sign up , you'll get the virtual day recordings (lifetime access) as well as the bonus templates and planners.  You'll be able to use this course year after year to keep your business on track and growing!
Let's do this!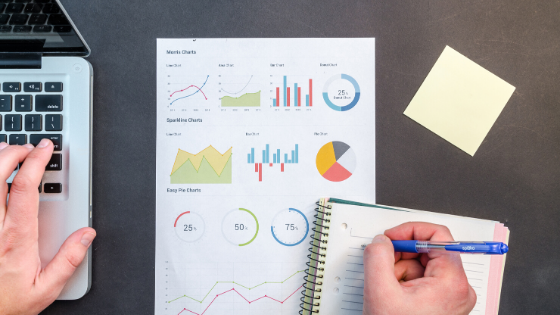 Are you ready to hang out your shingle as an online business owner?
One of the first things you need to put in place is a mechanism for selling your service or product. Here's a "shopping list" of what you need to get started (or to uplevel).
Your Sales Funnel

Entire books have been written about sales funnels, but here's how a funnel traditionally works:

Your sales funnel begins with your free offers—your blog, social media updates, YouTube videos, etc. These are the things that anyone online can access at zero cost and will help people find you, get to know you.

Following that, are your free items that require an opt-in. The cost of access isn't money, but rather an email address. These include checklists, worksheets, video training, small reports, resource guides, etc.

Below that in your funnel are low-cost items. Depending on your market, low cost might be $7 or it might be $70. Only you can determine what your "entry-level" rate is.

Next are your mid-range products, followed by those top-end, elite coaching offers, or for products, it is what Ryan Deiss calls the Profit Maximizer – eg. the $800 coffee maker sold in Starbucks.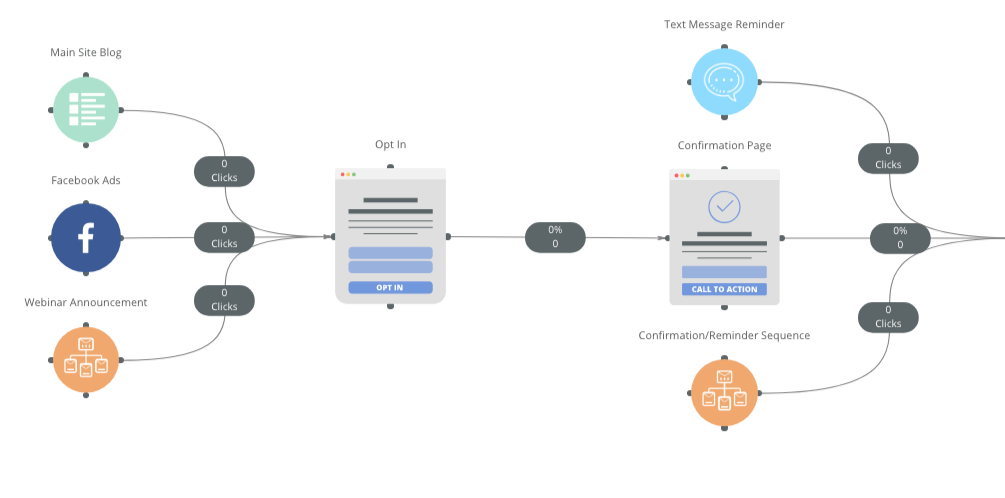 Ideally, your sales funnel will work in conjunction with your social media, your blog, and your email autoresponders to move people from the entry level to the top products over a period of time. If you find that people opt-in for your free offer, buy your low-cost items, but don't purchase your higher-end products consistently, you have what's called a leaky funnel. It simply means that buyers are "escaping" your funnel at some point. Identify where your trouble spots are, and you'll be closer to your earning potential.

One of the biggest mistakes I see people make with sales funnels is overthinking the funnel. When your list is small there just aren't enough people in the funnel to justify something really complicated.

When you are just starting out, you can start with a simple funnel – that looks a bit like this

Awareness (Traffic) -> Freebie (simple lead magnet or video) -> Phone Call -> Service.
It is much easier to get one or two people to buy a service at a higher price than to sell 100 ebooks to a list of 50 people.  Keep your funnel as simple as possible for as long as you can.

Your Turn: Take a minute to draw out your funnel – what do you still need to put in place to have it working for you automatically?
Upsells and Downsells – What else you got?
When a visitor lands in your cart, your relationship with her has reached a new level. If she buys, you're in the perfect position to offer more in terms of an upsell, cross-sell, or one-time-offer.

You'll see this in action whenever you buy from places like Amazon or Wal-Mart. Before you click the "buy" button, you'll often see a row of items with the heading, "Customer who bought this item also bought…"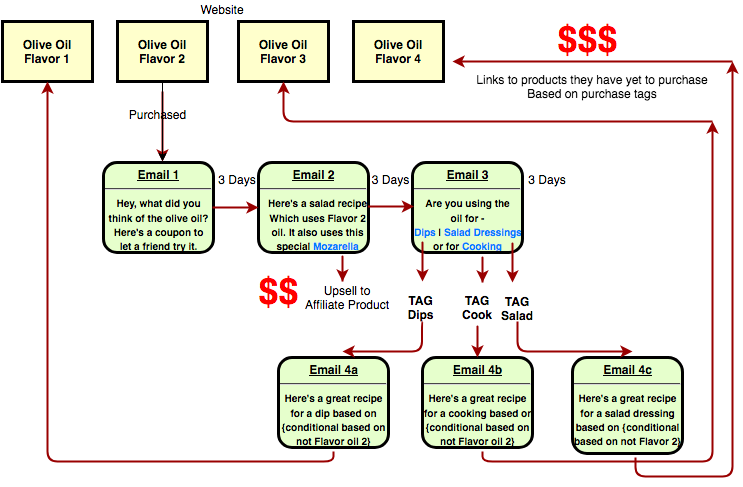 This encourages buyers to explore other, related items, and ultimately increases the average sale amount.  If you have another product ready, adding an upsell or downsell is a great way to quickly add profit to each sale.  A good example is when buying a camera – do you need a camera bag with that? A tripod maybe?

Our favorite shopping cart, ThriveCart has a robust system for adding upsells, downsells and even a quick "bump" offer.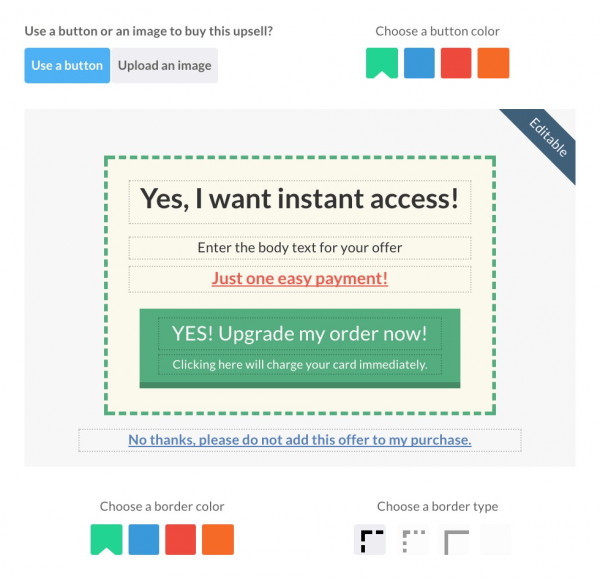 But what if a customer lands in your cart and doesn't buy? Perhaps she decided the cost was too high, or that she's not quite ready for this product – or more likely, wants to check out the competition first. That's the perfect opportunity to offer a downsell—a lower-priced item in the same category. Your downsell might be a "lite" version of the item she almost bought, or a self-study course rather than live training, or even an ebook instead of an on-site workshop.

The point with a downsell is to turn a "no" into a sale, even if the sale is of your lowest priced product. It's much easier to sell to a customer than to sell to a visitor, so if your downsell converts, it's a powerful tool.

Your Turn:

Consider all of your products, and where it makes sense, add a downsell. Then track your cart abandonment rates and see if they improve.  ThriveCart also lets you easily track cart abandonment and send prospects a series of emails through Active Campaign (or your favorite autoresponder).
Collecting the Money and Delivering the Product
The cart you choose and the method of product delivery can mean the difference between making a sale and not. While a PayPal button is really all it takes to collect payment online, it might not be enough to instill confidence in your audience.

If your ideal client is older or is used to doing business offline, she might not be comfortable with just PayPal as an option. Consider upgrading to a cart that offers credit card payments as well, so she'll feel better about security.

ThriveCart lets you easily customize your cart color scheme for that professional, confidence, inspiring shopping experience (with more template options on the way.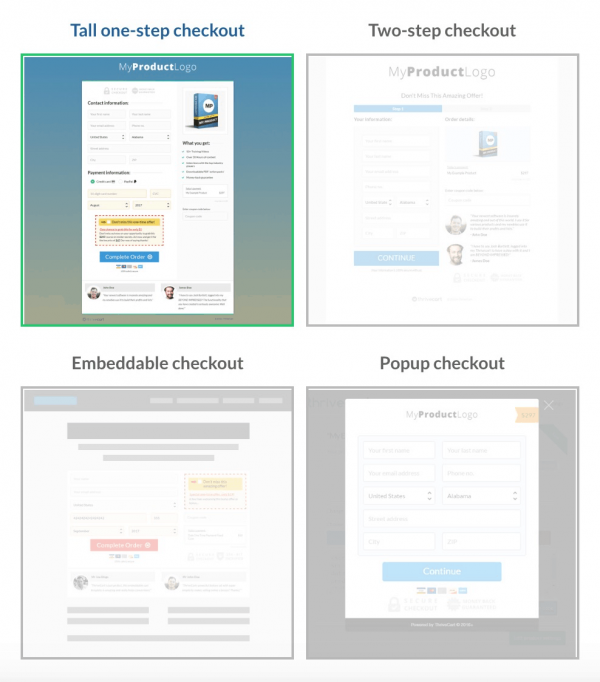 Product delivery is best when handled automatically – not only for you, but for your clients as well. Imagine if you make a purchase at 8pm on a Friday evening and have to wait until Monday morning for the product to be scheduled for delivery because the seller is offline for the weekend. You won't be thrilled with the experience, and neither will your buyers, so be sure whichever cart you choose has the capability to deliver products automatically, within minutes of purchase.

Your cart should also handle refunds, coupons, bundles and other ecommerce components with ease. Sophisticated buyers have come to expect this of the merchants they buy from, and if you don't offer such things, you'll very likely be passed over in favor of someone who does.

Take a look at your shopping cart setup. Does it need updating? Is it still serving you and your clients well? How could you make it better?
When They Press "Buy" – The Work Begins
From the moment of purchase onward (and really, even before!) your clients and customers deserve the best support you can offer them. It begins with product delivery, which we've already covered, continues with follow-up and encouragement, your help desk, product updates and more.

Begin by incorporating a series of emails that encourage clients to both use the products they've purchased, but also participate in any groups or other live training available to them.
You can offer encouragement to your buyers whether your program runs live or is a self-study plan. Simply set up your emails in an autoresponder to go out on a regular schedule, and your clients and customers will be much more likely to not only complete your program, but to purchase others from you as well.

We email clients once they've purchased, but then follow up with weekly emails highlighting some of the course material.  We also have an interactive membership site using Access Ally which allows customers to complete homework and get feedback from us.
Your help desk is an important part of your customer support system as well. By providing fast, courteous help, you'll build a loyal fan base that will happily sing your praises and refer new clients to you as well.

Whether you maintain your help desk via email or with a dedicated app such as Zendesk or Help Scout, take the time to set up a FAQ page. This will help your buyers find the answers they need without you having to spend time responding to easily answered queries. For those questions that do require an answer from your team, canned responses can easily take care of 80% or more of the tickets you receive. Not only that, but you can (and should) craft your responses to gently nudge your readers more deeply into your funnel.

Those are the three main parts of the sales system. What do you need to add in order to see more sales?